We are excited to continue edifying some of our amazing staff at the Avenue Inn and Spa. We believe they are the heart of our hotel. And why we achieve incredible accolades, high Tripadvisor ratings, and awards. We interviewed Randi Miller, Front Office Supervisor, at the Avenue Inn and Spa recently to continue with our series. Here's the inside scoop!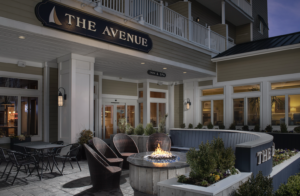 On the Job
When did you start working at the hotel and what attracted you to the position?
RM: I started at the front desk in the Spring of 2019, and I was drawn to it because I enjoy helping people. I decided if I was going to enter the hospitality industry, I wanted to work in the best hotel in town.
Where and when did your career in hospitality start?
RM: It began in the Spring of 2019.  I had briefly worked years ago in a restaurant/bar setting part-time, but that was the extent of my experience in hospitality. My background is primarily in administration, customer service and retention.
What is the toughest part of your job right now?
RM: Trying to squeeze people into the hotel when we are so full! It has a been a great year, so I highly recommend people book as far in advance as possible so we can accommodate your dates.
The Good Stuff
What has been your greatest success thus far in your career?
RM: Earning the trust and confidence from management to be promoted so early in my hospitality career was a tremendous honor.
What was your fondest memory of a customer?
RM: There have been many, as we have a lot of really wonderful guests who stay with us year after year.
Personally Speaking
What do you like to do in your spare time?
RM: I host trivia at a local restaurant on Wednesday nights. And I like to take my dog Trevor to the beach or his favorite field for a game of fetch when I can.
What is one thing very few people know about you?
RM: I am a lifelong musician, and I cannot dance.
Who do you admire, or look up to, and why?
RM: My father had a real gift for making people feel special just by talking to them and really listening to what they had to say. He overcame a tough childhood to become a successful Marine, businessman and role model. I know I got my sense of humor, work ethic and voice from him. And I'd like to think I got my people skills from him as well.